ACCU AWARDED FAVORITE CREDIT UNION AND FIVE-STAR RATING
Published: 06/29/2020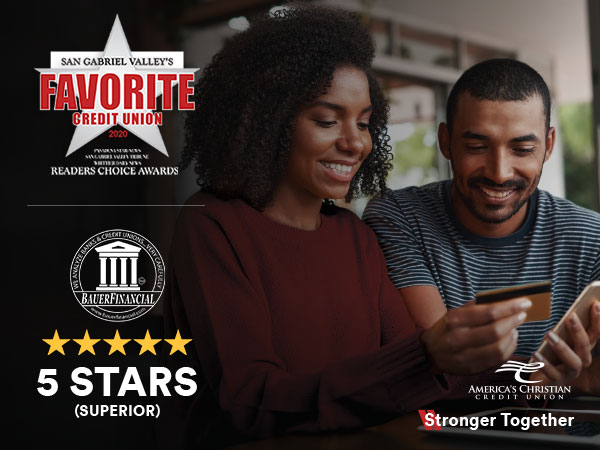 Glendora, Calif. June 29, 2020 – America's Christian Credit Union (ACCU), a faith-based financial institution headquartered in Glendora, CA, was awarded "San Gabriel Valley Readers Choice Favorite Credit Union" as well as a Five-Star "superior" institution rating by BauerFinancial.
On June 28, the San Gabriel Valley News Group announced ACCU as the Readers Choice "favorite" credit union. Each year, the San Gabriel Valley News Group – which produces a variety of newspapers covering the greater Los Angeles area and serves over 1.5 million readers – conducts a voting period for six weeks in February and March. Once the voting period closes, the San Gabriel Valley News Group designates Readers Choice Awards in a variety of "best" and "favorite" categories, including products, services, neighborhood establishments and destinations. This year, ACCU was named "Favorite Credit Union."
As the adage goes, "when it rains, it pours;" ACCU has indeed received a showering of awards from its community and industry. Shortly after being designated "Favorite Credit Union," BauerFinancial, a leading independent bank and credit union rating firm, awarded ACCU a five-star "superior" rating. Dating back to 1983, BauerFinancial assigns a zero to five-stars ranking every quarter. Evaluations and reports are compiled from financial data for the period noted as reported to federal regulators. BauerFinancial relies on this data in the determination of the star ratings. The quarterly information is subjected to a thorough analysis and is compared with historical data for consistency. This recognition pays homage to ACCU's consistent year-over-year track record as a "well capitalized" institution.
In his congratulatory letter, Glendora Mayor Michael Allawos wrote, "The City of Glendora is delighted to have America's Christian Credit Union in our City. The San Gabriel Valley is home to a large selection of excellent establishments, to be voted by the readers, your customers, as a 'Favorite' is truly impressive and we commend you for this accomplishment. The achievement of this award is a reflection of the hard work and dedication you put forth to build your successful business. Congratulations!"
"We are deeply honored to receive these awards and thankful to God for His many blessings on the credit union for over six decades," said ACCU President/CEO Vicki VannBerstein, who quickly and successfully transformed ACCU into a digital-forward credit union. Under VannBerstein's leadership, ACCU has adopted a remote work strategy while building an online system to process over 1,000 Paycheck Protection Program (PPP) loan applications bringing much-needed financial relief for hundreds of churches, schools, non-profits, and small businesses across the country during the global coronavirus pandemic.
View all posts