ACCU ANNOUNCES MEMBER-GENERATED DONATIONS TO STRATEGIC MINISTRY PARTNERS
Published: 12/06/2019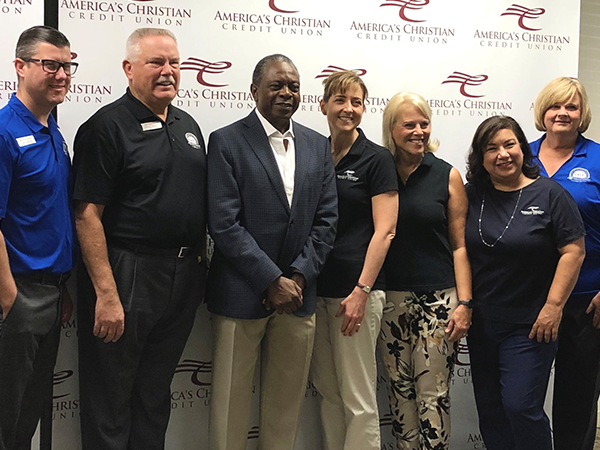 America's Christian Credit Union (ACCU), a faith-based financial institution headquartered in Southern California, has announced its member-generated Visa® Platinum GiveBack for the third quarter of 2019. Proceeds in the amount of $7,000 will be distributed in alignment with ACCU's corporate priorities of building stronger families, communities, and ministries. This quarter's beneficiaries include Harvest Family Life Ministries; the American Center for Law and Justice; JESUS Film Harvest Partners; and Kelly Schlenz of Idyllwild Pines Camp and Conference Center.
Harvest Family Life Ministries (HFLM) has served over 450 children through foster care and adoption since it was founded by Bishop Aaron and Mary Blake in Brownwood, Texas. The ministry, which pioneered Stand Sunday in 2004, now operates under the umbrella of Christian Alliance for Orphans (CAFO). ACCU's Visa® GiveBack donation of $1,000 allowed HFLM to give a $100 gift card for food purchases to each of ten (10) child welfare families for Thanksgiving.
The only individual selected as a beneficiary this quarter is ACCU member Kelly Schlenz, who serves as operations manager at Idyllwild Pines Camp and Conference Center. Kelly and wife Pamela have been raising funds for a support dog for their nine-year-old daughter, who was diagnosed with autism in 2011. The Schlenzes are partnering with Good Dog! Autism Companions, a nonprofit that raises and trains service canines for children with autism.
"We initially found the hurdle of raising $16,000 dollars to get a support dog for Naiya completely daunting," says Kelly. "But ACCU's matching donation helped us make our goal on Giving Tuesday. The additional funds we raised will help cover what Good Dog! would normally provide in scholarships. This means even more families will be blessed through this campaign. We can't thank ACCU enough!"
Another beneficiary this quarter, the American Center for Law and Justice (ACLJ), was chosen for its efforts on behalf of persecuted Christians all around the world. Headquartered in Washington, DC, the ACLJ has participated in numerous cases before the Supreme Court and the United Nations regarding freedom of religion and freedom of speech, shining a light on human rights abuses against Christians. The nonprofit organization is currently advocating for the release of Bryan Nerren, a Tennessee pastor who is being detained in India because of his faith in Christ.
The final beneficiary, JESUS Film Harvest Partners, is a collaboration between the Church of the Nazarene and the JESUS Film Project. Formed in 1998, Harvest Partners has 773 film teams ministering in 54 countries this year. "Thank you for participating in this movement," said Global Missions Director, Dr. Verne Ward, in a letter to ACCU's leadership. "We commit to channeling these resources in such a way that God can use them to make the biggest impact possible."
ACCU's Visa® Platinum GiveBack program was established in 2012, to designate a portion of the revenues from everyday transactions to mission-aligned causes. To date, the program has allowed ACCU and its members to donate almost $400,000 to individuals and organizations that are making an impact for God's Kingdom.
"We want to thank our ministry partners, who inspire us to live our mission daily, and to our members for making that possible," says ACCU President/CEO Mendell Thompson. "Throughout this past quarter, we all experienced the joy of making a positive difference in lives and communities across our nation and the world through the GiveBack cash allocation."
Please click here to find out more about ACCU. To read about the previous quarter's Visa® Platinum GiveBack, please click here.
View all posts