ACCU HONORS CLERGY ON PASTOR APPRECIATION DAY
Published: 10/31/2019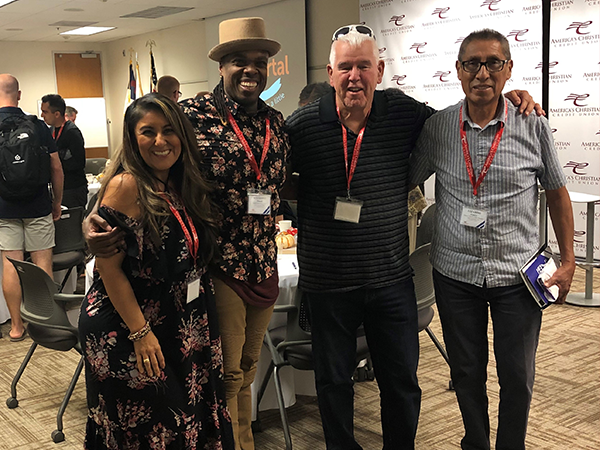 Last week America's Christian Credit Union (ACCU), a faith-based financial institution headquartered in Southern California, honored church and ministry leaders on Pastor Appreciation Day. Over 40 church leaders attended the all-day event, held at the credit union's Glendora headquarters on October 22.
After the opening prayer Matt Kyser, founder of Restor Renewal Ministry, kicked off the morning session with a presentation titled "Burnout is not a pastor thing, it's a people thing." The next featured speaker, Charlie Cutler, president of ChurchWest Insurance Services, offered insights on how to protect a church from various liabilities affecting Christian organizations today.
In the post-lunch session Bishop Aaron Blake, co-founder of Harvest Family Life Ministries, spoke on adoption and foster care. Himself a foster/adoptive parent, Bishop Blake serves on the board of the Global Orphan Project. He was followed by Rebekah Weigel of CarePortal, a nonprofit that makes it easy for churches to engage in foster and orphan care.
October has long been recognized as Clergy Appreciation Month. The call to honor Christian ministers can be traced back to the apostle Paul, who said that "the elders who direct the affairs of the church well are worthy of double honor" (1 Timothy 5:17). As a banking partner for individuals and organizations across a spectrum of Christian traditions, ACCU was proud to participate in the celebrations by hosting Pastor Appreciation Day for the second year in a row.
Apart from a complimentary chair massage for those who wanted it, the program included a variety of raffles and prizes. The award for the greatest distance traveled went to Pastors Kelly and Suzanne Larson of Bishop Creek Community Church, who drove over 260 miles to attend the event. The longest-serving minister prize was won by Bishop Charles Nouden of Holyway Church of God in Christ, who began his ministry upon returning home from Vietnam in 1969. When asked what advice he would give to younger ministers, Bishop Nouden succinctly replied, "Don't quit!"
"Pastor Appreciation Day fits well with our key corporate priorities of building stronger communities and ministries," says Darren Thompson, VP of Corporate Services at ACCU. "Based on the comments I have received from those in attendance, I am confident that we achieved our goal of teaching, encouraging, and inspiring."
To learn more about how to become an ACCU member, please click here. To read the latest news, please click here.
View all posts