ACCU Celebrates International Credit Union Day With Fanfare
Published: 10/22/2019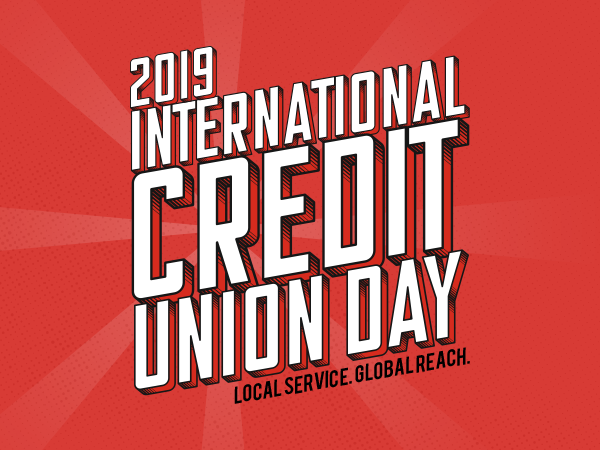 America's Christian Credit Union (ACCU), a faith-based financial institution headquartered in Southern California, joined 56,000 credit unions across the globe in celebrating International Credit Union (ICU) Day on October 17. This year's theme – Local Service. Global Reach. – "perfectly captures the focus and scope of credit unions as we head into the next decade," said World Council of Credit Unions president and CEO, Brian Branch.
ACCU welcomed its members and guests with cookies and lemonade at the main branch in Glendora, located at 2100 E. Route 66, as well as at the Azusa branch, located at 924 E. Alosta Ave. In addition, employees celebrated with an international potluck, sharing treats from several different cultures. Some of the countries represented were England, Scotland, Germany, Italy, Israel, India, Mexico, and the Philippines.
"Ever since our first International Potluck five years ago, the third Thursday of October has consistently been one of the most anticipated dates of the year," says HR director Richard Mathews. "We decorate the lunchroom with flags of the world, and sprinkle in messages spotlighting the credit union themes of cooperation, civic engagement, and service."
Of the 260 million credit union members on the planet today, more than 100 million are in the U.S. alone. No matter which part of the country they call home, they are all bonded by the not-for-profit cooperative spirit that characterizes credit unions.
This cooperative spirit has led to life-changing opportunities for those who have wanted to start a small business, own a home, or continue their education but were denied access to other financial institutions. In many parts of the world, people's first taste of democracy is through their credit union, where "one member, one vote" is a credo built into the governing structure.
At its most basic level, a credit union is people pooling their money to provide each other with affordable loans—it is literally people helping people. Credit unions empower people to take control of their financial future. This is why ACCU makes it a point to celebrate ICU Day® every year.
As a banking partner for individuals and organizations across a spectrum of Christian traditions, ACCU is relentlessly dedicated to serving the wider Kingdom of God. For over six decades, the credit union has remained true to the biblical principles on which it was founded in 1958. Driven by the mission to "Reach, Serve, and Teach," the institution aligns every endeavor with the key corporate priorities of building stronger families, communities, ministries, and futures.
"As a credit union rooted in the Wesleyan Holiness tradition, rich in cultural history and deep thinking, and motivated by a commitment to restoring God's image in all people, we are so much more than a traditional financial institution," says ACCU president and CEO Mendell Thompson. "We care for the well-being of God's people here on earth not just financially, but holistically, so we can accelerate Kingdom impact together."
To find out about ACCU's affordable loans, please click here. The credit union's latest news is available here.
View all posts